CUE MODEL:
SCROLL HI-RES IMAGE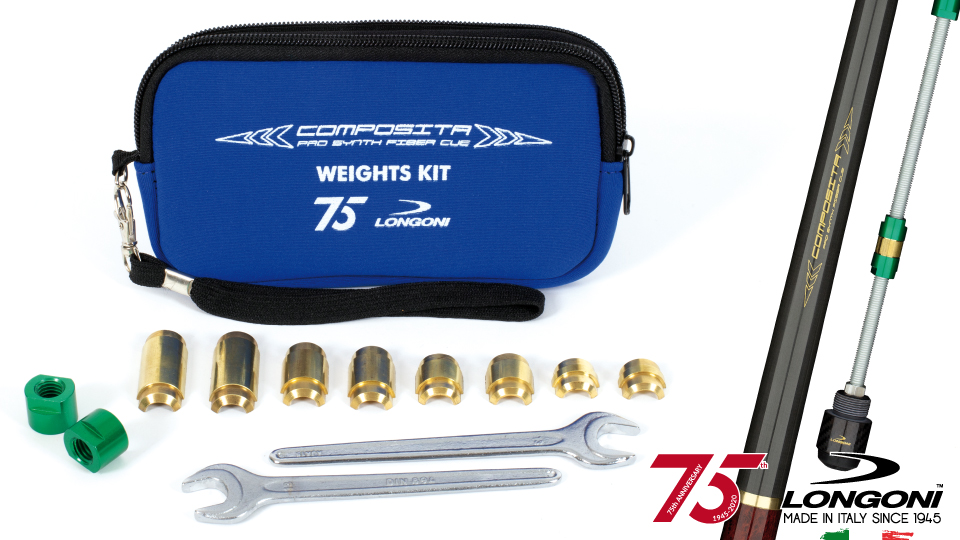 DISCIPLINE:


Carom
STATUS:
in collection
PRODUCT DESCRIPTION:
Model which celebrates 25 years from the first graphite cue by Longoni: the G94 launched in 1994. Totally composed with composite fiber tubes (Kevlar and unidirectional graphite) that make it precise and non-deformable: the grip area is covered with real briar-root applied by hand. The weights are variable and the balancing itself can be adjusted through an internal threaded bar. It is equipped with Vp2 joints in grade 5 titanium on a double black linen base.
Available with 700/20 11 and 12 mm shafts suitable for the libre and also for 3 cushions discipline, thanks to the possibility of varying the weight.
Weight kit bag included.
https://www.youtube.com/watch?v=XCNCtEn_uWY
LIMITED EDITION:


-
WOODS: 
Briar-root
REFERENCE ITEMS:
item 24583: butt lenght 70cm with 1pc graphite FC70 D12mm/11mm diam available
CUE MIN WEIGHT:


DIAM. 12 mm - 540 GR
DIAM. 11 mm - 500 GR
SHAFTS:
one
PRO PLAYER:
-

SERIAL NR:
No
YEAR OF FIRST PRODUCTION

:
2019
EMBEDDED TECHNOLOGY:
IMPORTANT NOTICE:
The company reserves the right to apply modifications or changes to the product without any obligation of previous notice.