CUE MODEL:
AMALIA PLUS SILVER

by FREDERIC CAUDRON
Exclusive availability for the Korean market (contact Kimchi billiard)




SCROLL HI-RES IMAGE


DISCIPLINE:


Carom / 5 birilli
STATUS:
discontinued
PRODUCT DESCRIPTION:
The new Amalia plus edition by FREDERIC CAUDRON.
This elegant "Silver" cue has an hornbeam body dressed with curlymaple, mixed colour Juma rings and inlays; it's available with Vp2 joint ot WJ.
It's delivered with 3lobite extension.

Beware of copies and imitation : Longoni "custom pro" and "signature" cues have to come always with an official certificate.
It will be limited to 100 pcs, available only for Korean market with Vp2-titanium or wood joint joint.
LIMITED EDITION:


100 pcs
WOODS:
curly maple, hornbeam
REFERENCE ITEMS:
item 24697 with nr 2 S20 VP2 shaft
item 24698 with nr 2 S20 WJ shaft
COMPLEMENTARY:


BUTT MIN WEIGHT:


430gr
SHAFTS:
two
PRO PLAYER:

Frédéric Caudron
SERIAL NR:
Handsigned number
YEAR OF FIRST PRODUCTION

:
2020
CERTIFICATE: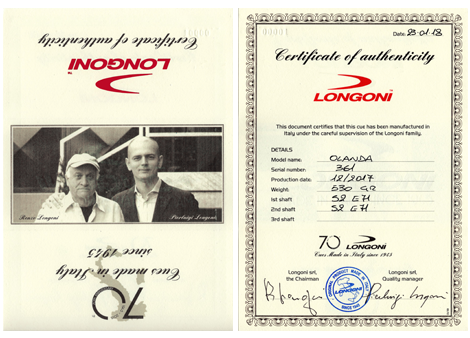 EMBEDDED TECHNOLOGY:
IMPORTANT NOTICE:
The company reserves the right to apply modifications or changes to the product without any obligation of previous notice.