CUE MODEL:
DEDALO TURQUOISE / DEDALO MALAKITE


SCROLL HI-RES IMAGE


DISCIPLINE:


Pool
STATUS:
only irregular available
PRODUCT DESCRIPTION:
Dedalo is the first Longoni cue made with intricate work of inlays on the handgrip. Upper and lower rings are made in real silver handworked by Italian masters in cheasing.
All the blue inlays are made with turqoise and eforyn border. Handgrip inlays are made of Tuja and olive wood.
With matching ring on shatfs
LIMITED EDITION:


No
WOODS: 
Hornbeam and Indian rosewood structure. Olivewood and tuja inlays and rings
REFERENCE ITEMS:
item 22541 with nr 2 S2 xp shafts with matching rings

COMPLEMENTARY:


CUE MIN WEIGHT:


19.5oz
SHAFTS:
two
PRO PLAYER:
No

SERIAL NR:
No
PRODUCTION YEAR:
-
CERTIFICATE: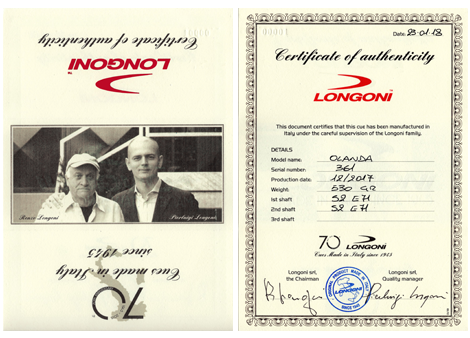 EMBEDDED TECHNOLOGY:
IMPORTANT NOTICE:
The company reserves the right to apply modifications or changes to the product without any obligation of previous notice.