CUE MODEL:


SCROLL HI-RES IMAGE


DISCIPLINE:


pyramid
STATUS:
in collection
PRODUCT DESCRIPTION:
Longoni Serie Russa: rosewood and hornbeam with violet and olive wood rings.
VP2 joint.
LIMITED EDITION:


No
WOODS:
rosewood, hornbeam, olive, purple heart
REFERENCE ITEMS:
art 24284 with 1 pc VP2 hornbeam shaft
COMPLEMENTARY:
Longoni bag
CUE MIN WEIGHT:


680gr
SHAFTS:
one pc VP2 hornbeam shaft
PRO PLAYER:
No

SERIAL NR:
No
PRODUCTION YEAR:
-
CERTIFICATE: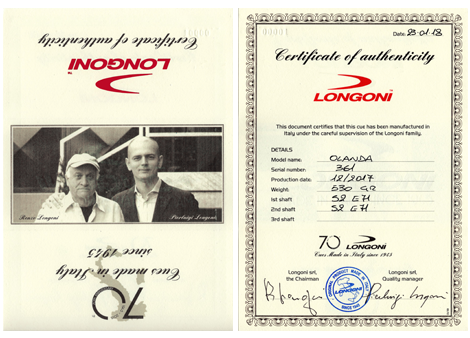 EMBEDDED TECHNOLOGY:
IMPORTANT NOTICE:
The company reserves the right to apply modifications or changes to the product without any obligation of previous notice.