CUE MODEL:
BS 22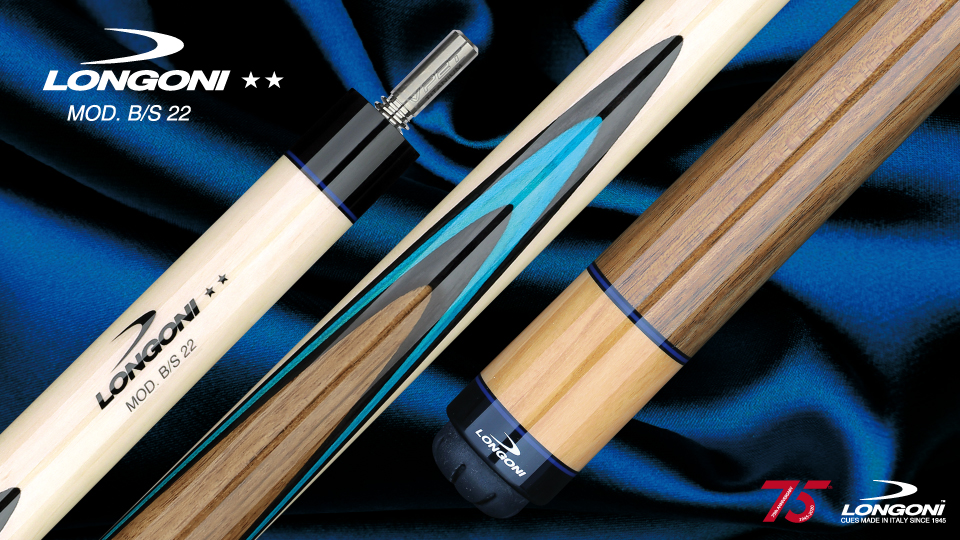 SCROLL HI-RES IMAGE


DISCIPLINE:


Carom
STATUS:
In collection
PRODUCT DESCRIPTION:
Longoni brand is famous worldwide for the fancy Italian design and the exclusive models of billiard cues.
In our wide range of products however we also have entry-level models, some so characteristic that became iconic. One of them is the BS : this style of cue has been introduced in the mid of sixties for the north European markets.
The BS-22 version has the classic french flames structure of all BS ; in this specific model the forearm is made from European hornbeam ( FSC certified ) , the handle is made with Amazaque walnut enriched with a ring in Italian olive wood .
The black rings are made in hard double black linen and the joint is Vp2 stainless steel.
It's actually available standard in two versions : one mainly for libre with 1 s2 c67 12mm laminated shaft , a second one for 3 cushion with 1 s20 e71 11.8mm laminated shaft. 
LIMITED EDITION:


No
WOODS: 
amazaque, hornbeam, olive wood
REFERENCE ITEMS:
item 28173 with nr 1 S2 67 shaft for carom libre game
item 28174 with nr 1 S20 E71 shaft for 3cushions
BUTT MIN WEIGHT:


350 gr
SHAFTS:
one
PRO PLAYER:
No

SERIAL NR:
No
YEAR OF FIRST PRODUCTION

:
2022
EMBEDDED TECHNOLOGY:
IMPORTANT NOTICE:
The company reserves the right to apply modifications or changes to the product without any obligation of previous notice.