CUE MODEL:
GALAXY EBONY

by KIM JAE-GUEN


SCROLL HI-RES IMAGE


carom
STATUS:


in collection
PRODUCT DESCRIPTION:
Asia fascination, Italian design: Galaxy is the first cue ever made by Longoni for a Korean players. An elegant design enriched by new materials such as the green precious s-malachite. The structure is made with solid core technology which make the cue alive and natural in the game. The cue is normally delivered with S3 shafts but is ready for the new S20, special made for 3 cushions.
Mr. Kim Jae-guen, Korean top player, is part of the Longoni team since 2012 thanks to the collaboration with Kimchi Billiards, the Korean distributor.
LIMITED EDITION:


No
WOODS:
ebony macassar Used wood: macassar ebony (to reach particular weight or balance, at our own discretion and without obligation of prior notice, we could replace macassar ebony with Nox), olive wood, curly maple, hornbeam.
REFERENCE ITEMS:
item 27780 with nr 2 S20 E71 VP2 shafts for carom 3c
COMPLEMENTARY:


BUTT MIN WEIGHT:


390 gr
SHAFTS:
two
PRO PLAYER:

Kim Jae-Guen
SERIAL NR:
Handsigned number
PRODUCTION YEAR:
-
CERTIFICATE: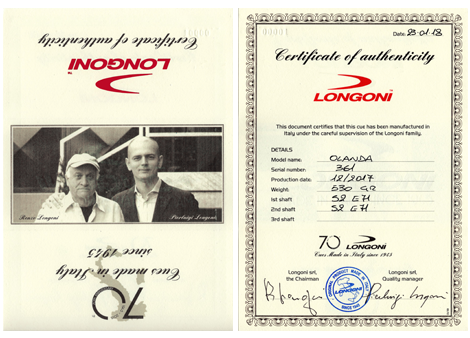 EMBEDDED TECHNOLOGY:
IMPORTANT NOTICE:
The company reserves the right to apply modifications or changes to the product without any obligation of previous notice.