CUE MODEL:
SCROLL HI-RES IMAGE


DISCIPLINE:


pyramid
STATUS:
discontinued
PRODUCT DESCRIPTION:
A "must" for all the technical players looking for a product mixing design and technology.
Easy weight adjustment and balance regulation.
Inlays Cocobolo.
Extension included.
LIMITED EDITION:


No
WOODS:
Hornbeam, cocobolo
REFERENCE ITEMS:
art. 29142 - Woodcomp shaft
art. 29141 - Hornbeam shaft
COMPLEMENTARY:
1 Extension

1 Cue Case Shuttle
(1 butt / 3 shafts version)
CUE MIN WEIGHT:


680gr
SHAFTS:
1 S5 laminated shaft
PRO PLAYER:
No

SERIAL NR:
Handsigned number
PRODUCTION YEAR:
-
CERTIFICATE: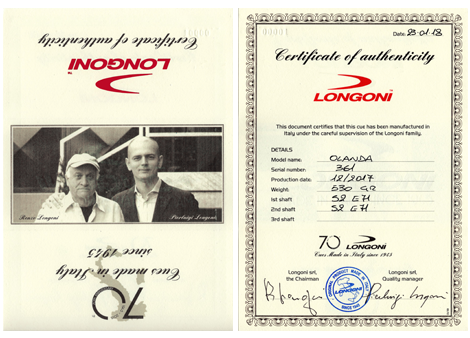 EMBEDDED TECHNOLOGY:
IMPORTANT NOTICE:
The company reserves the right to apply modifications or changes to the product without any obligation of previous notice.