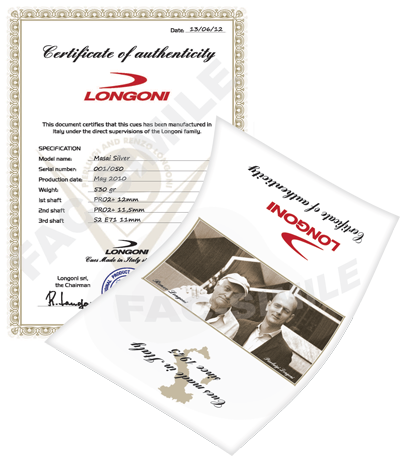 With this statement we want to clarify definitively and officially a matter which we have to face several times with: the
The Longoni brand was founded almost 70 years ago in Mariano Comense by my grandfather Alessandro Longoni. Even if the company has grown a lot in comparison to the beginning, also in other fields besides the billiard sector, the production of the Longoni cues has remained a familiar pride which we hand down from father to sons. origin of the Longoni cues.

To produce cues is, for us, an unique form of art which is not possible to turn it into a pure business: should we wanted to take up this way, we would have moved years ago the company to another country where the manpower is cheaper but where our product would become one among many others.
We like to be different and to have a full control of the production in order to provide the best product possible.


For this reason we can nowadays state with pride that all Longoni butts and shafts are produced entirely in Italy without using half-finished wood parts coming from others.
It is also true that our structure, in order to be competitive in a global market, sells products of entry level produced, under Longoni specifications, by thirds. In order to diversify these two types of products, we created several years ago the "Renzline" brand (and the related Bison, Stargate, Supernova, Vaula sub-brands), which is still today used for products coming from separate certified suppliers. 
From the simple Sorrento cue to the rich Masai, from the basic maple shaft to the new generation S20 shaft, for each kind of game, everything is made in Italy.

The only exceptions are wood components of the 3lobite extensions, HPG grips, some Renzline and Longoni cue tips and the black sleeve used to deliver our cues and shafts which, for practical or technical matters, are outsourced. 
A different problem are the several copies of the cues Longoni which are produced illegally and sold with the fake Longoni brand in those markets where there is not enough legal protection, cheating the unaware buyers and causing possible health risks: several examples can be found in Central America or in the South-East of Asia.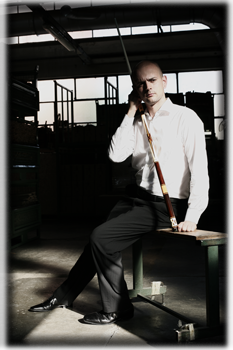 These products, for quality and details, cannot be compared with our productions developed for professional and amateurs players. 
Italian products, besides the high quality standards, grant the respect of the strict European rules concerning environment and workers protection. 
Longoni is nowadays the only European company which produces cues in Italy for carom and pool with a real international presence. 
Thanks to the "made in Italy", Longoni brand is today strongly growing in Asia, one of the leading markets worldwide looking for top products. 
In order to protect our image and our company, we will proceed in the places and ways provided for by Italian and International law against everyone stating the contrary. 
Pierluigi Maria Longoni,
in name of the Longoni family 
---
Dichiarazione di "Made in Italy"
Con questa dichiarazione vogliamo chiarire definitivamente ed ufficialmente una questione che ci viene costantemente posta : l'origine delle stecche Longoni .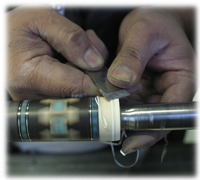 Il marchio Longoni fu fondato quasi 70 anni fa a Mariano Comense da mio nonno Alessandro Longoni. Anche se l'azienda si è notevolmente sviluppata anche in altri campi oltre a quello del biliardo, la produzione di stecche da biliardo è rimasta un orgoglio familiare che tramandiamo da padre in figlio.


Produrre stecche per noi è un forma d'arte che non è possibile trasformare in un mero affare : se avessimo voluto prendere questa strada , avremmo trasferito l'azienda in un paese dove la manodopera è meno costosa ma dove il nostro prodotto sarebbe diventato uno tra tanti.
Noi amiamo essere differenti per carattere ed avere un controllo totale della produzione.

Per questa ragione oggi possiamo dichiarare con orgoglio che tutti i calci e puntali Longoni sono prodotti interamente in Italia usando unicamente tecnologie e competenze Italiane, a Mariano Comense, senza semilavorati di terzi.
E' comunque vero che la nostra struttura, per essere competitiva in un mercato globale, commercializza anche prodotti di fascia economica costruiti sotto specifiche Longoni da altri. Proprio per sottolineare la differenza tra i due prodotti , diversi anni fa fu creato il marchio Renzline ( ed i relativi sottomarchi Bison, Stargate, Supernova e Vaula ) che è tutt'oggi usato per i prodotti provenienti da fornitori terzi certificati a cui però non diamo il nome Longoni.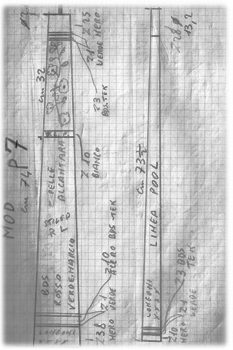 Dalla semplice Sorrento alla preziosa Masai, dal puntale base in acero al puntale s20 di nuova generazione, per ogni disciplina, tutte le lavorazioni sono svolte in Italia a Mariano Comense.

Unica eccezione sono alcuni componenti delle prolunghe trilobite, le impugnature Hpg , alcuni cuoi ed il foderino nero usato per spedire puntali e stecche che , per diverse ragioni, sono affidati a terzi anche al di fuori dell' Europa.
Una questione differente sono le numerose copie di stecche Longoni che sono prodotte illegalmente e vendute con falsi loghi Longoni in quei mercati dove non vi è sufficiente tutela legale , truffando ignari acquirenti e nascondendo possibili rischi legati alla salute : numerosi esempi possono essere trovati in america centrale e nel sud est asiatico.

Questi prodotti per qualità e dettagli non possono essere minimamente comparati con le nostre produzioni , sviluppate per professionisti ed amatori.
I prodotti Italiani, oltre agli alti standard produttivi , garantiscono il rispetto di strette normative europee a riguardo dell' ambiente e protezione dei lavoratori.
Longoni è oggi l'unica azienda europea che produce stecche da biliardo in Italia per carambola e pool con una presenza internazionale ed un network di rivenditori qualificati mondiale.
Chiunque dovesse fornire false dichiarazioni sull'autenticità del "made in Italy" dei nostri prodotti, anche verbalmente, sarà considerato legalmente responsabile e proprio per questo motivo, al fine di proteggere la nostra immagine, ci vedrà costretti a procedere nei luoghi e nei modi previsti dalle leggi Italiane ed internazionali.
Pierluigi Longoni,
a nome della famiglia Longoni